March | April | May | June | 2019 Tibet Pilgrimage
updated Feb. 24, 2019
Keith has now scheduled several public events for 2019.

Not all details are available when an event is initially posted,
so please check back, as we post additional details as they become available.
If you have not already done so, please use the link in the footer to subscribe.
Thank you for your interest and support!
Introductory Dzogchen Retreat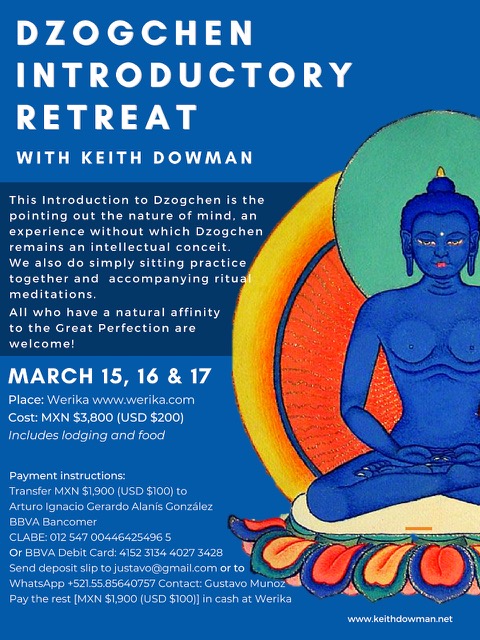 Contacts:
Please follow instructions on the image just above.
International External Rushen Retreat
Retreat in the Forest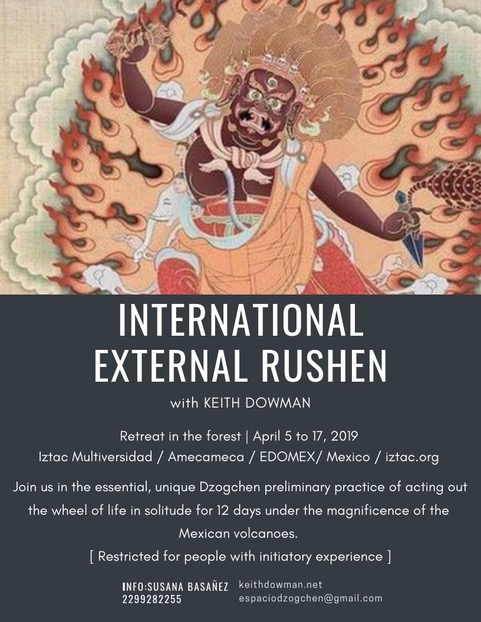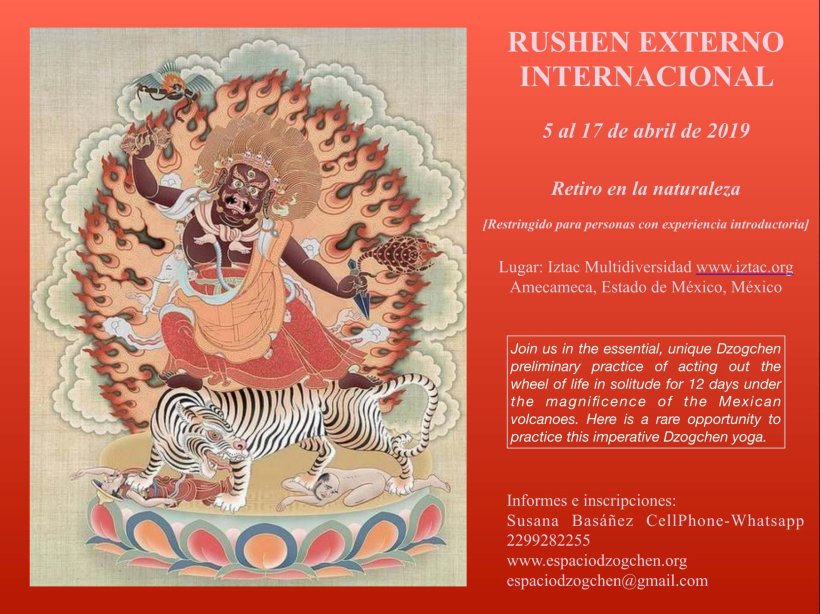 "Rushen" means distinguishing between samsara and nirvana through direct experience ... and in the process, attaining the one taste of rigpa that is free of both. It is a critical preliminary practice experience for those who are seriously engaging the path of Radical Dzogchen.
"Traditionally, the only gateway for entering the profound path of Dzogchen, the Rushen practices fully prepare us for practicing the path of complete liberation. By completing the practice of Rushen, the seed that is the cause for rebirth is destroyed and the doors to the Six Realms of Beings are sealed forever". - Lama Tharchin Rinpoche
REQUIREMENTS TO ATTEND: A commitment to experience the Dzogchen teachings and some degree of personal experience in mind training and/or sitting practices such as meditation.
LOCATION: Iztac, Amecameca, Mexico Between Santa Isabel de Chalma and Santiago 60km. from Mexico City http://www.iztac.org
Contacts:
espaciodzogchen@gmail.com
More contact information on the image above.
Radical Dzogchen Revisited
Urban Dzogchen Seminar
The Pointing Out: The outside/inside space of radiant fullness and compassionate openness: Dzogchen Instruction and practice from the Dzogchen Mind Series (semde). We are already there if only we realize it.
LOCATION: Sambhala Centre: Neduwa
Contacts:
Tibor Hendry
email: sambhala@elender.hu
website: www.tibet.hu
Tibetet Segítõ http://www.tibet.hu/" Társaság Sambhala Tibet Központ
Tibet Support Association Sambhala Tibet Center
Busuku Retreat
International Residential Retreat
The BUSUKU retreat is the final Dzogchen retreat. Radical Dzogchen takes us there.The Trekcho and Togal instruction provides the basis for intensive two weeks of five sessions of simply sitting throughout the 24 hours of the day. You need previous Dzogchen practice for this optimal Dzogchen opportunity.
In the BuSuKu, silence and detachment from life outside is imperative. But there is no imposed discipline - Dzogchen is connection with the ground of being and its spontaneity. Nonaction and nonmeditation are the keywords and simplicity itself is the mode of being. Don't let this opportunity pass you by! This is the time and place to bathe in the reality that you have always known is imminent.
Technically speaking, we practice the 'breaking through' (trekcho) and 'leapover' (togal) phases of Dzogchen in series and then together.
"Dzogchen is the apex of Buddhism; Atiyoga is the supreme mode of Dzogchen; Trekcho/Togel is unitary atiyoga; Sky-gazing is the way of nonmeditation. If you can simply sit and watch, Dzogchen sky-gazing will bring ultimate or relative siddhi."
Anyone with previous attendance of a BuSuKu retreat is especially welcome and I urge you very personally to extend and deepen that experience. Anyone who has done an outer rushen retreat is also welcome and anyone who has not but who feels they can handle the BuSuKu schedule please.
'BuSuKu' is the indolence in which visionary experience arises in the common light of day and creative, compassionate, responsiveness is the ground of both ordinary and extreme situations: Dzogchen trekcho and togal in one schedule. This is little buddha sitting under the bodhi tree, rather than a way of worshipping the big buddha in the sky.
Contacts:
Antonio Gomez at angomez60@hotmail.com
Marc Castanyer

China/Tibet Pilgrimage 2019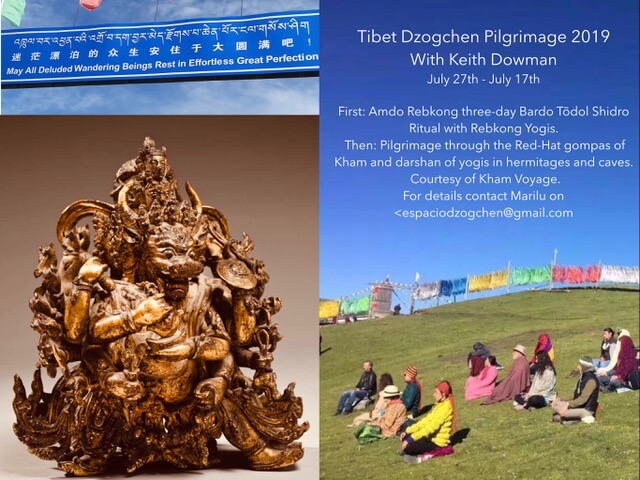 Tibet: Amdo/Kham Dzogchen Pilgrimage June 27 thru July 17
For 3-day participation in the Rebkong Shidro Drupchen and a 10-day pilgrimage through Nangchan and Kham.
The previous pilgrimages to Amdo and Kham were extraordinary events and we want to repeat it with some variations.
If you have a strong inclination to join us please write to espaciodzogchen@gmail.com. The number of pilgrims will be kept small so please put your name on the list immediately.
Sarva Mangalam!
May all beings be happy!